site map



Home Page
This welcome page contains news and updates relating to my current projects, published works and public appearances. You can also find the site map and event calendar.

About Me
A little background on my experience in the both the photographic and digital imaging fields.

Training
Information about the consulting services we provide to our clients as well as testimonials.

Tips
Information that is published here or links to information published on other sites.

Links
Other sites that you may find interesting.

Contact
Phone, Address, email...the usual.

Custom made ICC Profiles, click here!
NEW Features.We are happy to produce custom ICC profiles for any output device (RGB or CMYK). The cost is $100 per custom profile and includes an optional Optimization Process. Please contact us at andrew@digitaldog.net for additional instructions so we can produce your profile (we need your email to send the files and the resulting ICC profile).

The Pixel Mafia
The Pixel Mafia is a group of industry leaders with a collective vision that aims to aid and direct the digital imaging industry.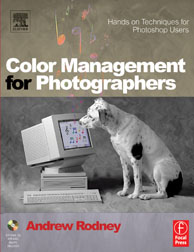 "Color Management for Photographers"
Download a sample of Chapter 1 (Color Management and why we need it)
Download Book Index and Acknowledgements